Michigan State

Dec 7, 2013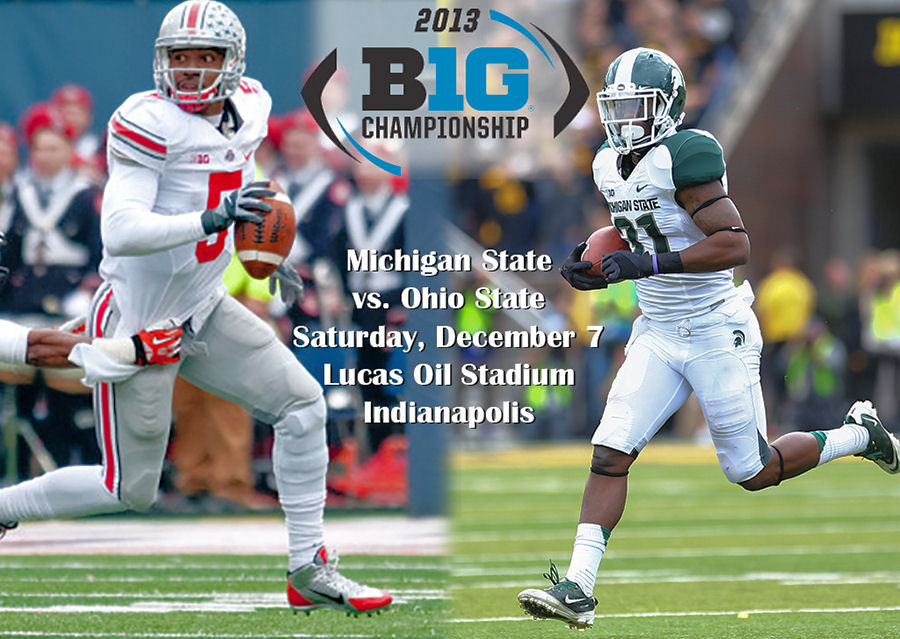 The city of Indianapolis and Lucas Oil Stadium will play host to the third annual Big Ten Football Championship Game on December 7, 2013. Kickoff is at 8:17 p.m. ET, while pregame starts at 6:30 p.m. ET on BTN before switching to FOX at 7:30 p.m. for the remainder of the pregame and the game broadcast. BTN will also have a postgame show following the FOX postgame show. Please check the links for information on this year's game and the events surrounding it, and be sure to check regularly as more information becomes available.




Big Ten Championship 2013: How Ohio State will run on Michigan State
December 4, 2013 Source: Land -Grant Holy Land - he Michigan State defense is very good. Actually, it is excellent and the one of, if not the best in the country. The Spartans are 4th in the nation in scoring defense, allowing an average of 11.8 points per game (Florida State is first in the country allowing an average of 11 points per game). They allow the fewest yards per game in the country at 237.7 yards per game. To get a comparison, the Buckeye defense is 30th in the country, allowing an average of 355.8 yards per game. Is the pass defense vulnerable, though? It's 9th in the nation allowing 172.9 yards per game and tied for first with Florida State in yards per attempt at 5.1.

The real strength of this Spartan defense is their run defense. They are first in the nation in that category allowing only 64.75 yards per game (by comparison, the second best in the nation is Louisville, averaging 82.82 yards per game). Yards per rushing attempt? First in the nation at 2.23 yards per carry. Rushing touchdowns allowed? Second in the nation with five. Sparty has only let up 777 rushing yards in 12 games; the stout Buckeye run defense has allowed 423 more yards and they are sixth in the nation.

This is where this matchup is so intriguing: the Buckeye run game versus the Michigan State rush defense. Ohio State has rushed for 3,855 yards, the best in the nation, and they are tied for 4th in the nation with 40 touchdown carries.

I chose the Nebraska game because they were one of the only teams to have success versus this Michigan State run defense. The Huskers run similar formations to the Buckeyes, so I thought it would be a good measuring stick to see how the Spartans line up and play against the different formations. Nebraska found rushing lanes the entire afternoon, rushing for 182 yards on 32 carries. With Taylor Martinez out, the Cornhuskers were relying on their two back up quarterbacks and had a 50/50 run/pass split.

Everyone knows what Carlos Hyde, Braxton Miller and the best offensive line in the country do; let's take a look at how they should attack the vaunted Michigan State rush defense.

Film Review...


1. Getting linemen to the second level
2. Not getting to the second level
3. Spread out the defense
4. Short yardage formation
5. Read option

Conclusion

After rewatching this game, I believe the Buckeyes will be able to run against the Spartan's defense. The MSU defensive line looked vulnerable, as they were blocked 1-1, with success for most of the day. I think the big and athletic Buckeye offensive line will win their fair share of battles against the Michigan State front seven which will then open up playaction. I would open up the game by making Miller comfortable, throwing screens and getting him in rhythm, making the linebackers and secondary respect the pass. I would then attack their front seven with Hyde and the offensive line, wearing them down the rest of the game. Once the linebackers are cheating towards the run, that is when Coach Herman likes to use play action and hit Heuerman in the seam or Devin Smith deep...







Tom Herman compares current Buckeyes to 2012 team that played Michigan State



What can be learned for Saturday and what should be thrown out from the 2012 Ohio State-Michigan State game: "We're different"
December 4, 2013 Source: Cleveland Plain Dealer - How long ago was the last Ohio State-Michigan State matchup?

That was the day the Buckeyes found Carlos Hyde.

Seventeen starters – nine from Ohio State and eight from Michigan State – remain from the matchup that was now 19 games ago for the Buckeyes, 20 for the Spartans.

Ohio State's 17-16 win over Michigan State on Sept. 29, 2012, was win No. 5 in Ohio State's 24-game winning streak, and Urban Meyer's first Big Ten game.

Considering how it changed a team that finally got what Meyer was trying to sell them after a rough first month, it may as well have been win No. 1.

A rewatching of that game this week showed how much the foundations for these current teams were in place, and that could be useful for their showdown Saturday in the Big Ten Championship in Indianapolis.

It also showed what could be ignored. Because this is not that.

"We're a lot … we're different," Ohio State offensive coordinator Tom Herman said Monday. "The numbers on the jersey and the names on the back might be the same at a lot of positions, but we're better. We're better than we were last year, and they are, too, on defense. Let's not kid ourselves on that, either...




Scouting Report: Big Ten assistants on Ohio State
December 3, 2013 Source: BTN - The coaches for Michigan State and Ohio State are furiously game-planning for the Big Ten championship game. I asked several Big Ten coordinators who have prepared for and stared down the Spartans and Buckeyes for their off-the-record views and ideas on how to attack each team.

Here's what they said.

***SCOUTING OHIO STATE***

To stop that offense, you better be, No. 1, big enough, and No. 2, athletic enough, to make tackles at the d-line position. The d-line needs to be gap-sound and to get off blocks, or those guys will get through there. And I think Michigan State has four linemen who can do that.

Playing Ohio State is like playing Navy: You have to stop the dive. With Ohio State, stop the inside run. If you can stop the inside runs on the A and B gaps, and if you then can stop the screen game, now you are cooking with gas and you have a chance to make some hay on the play-action passing game and quarterback runs. MSU is physical enough that when they hit the quarterback, it's gonna hurt.

[ MORE: Scouting Report: Big Ten assistants on Michigan State]

Braxton Miller is good. He has really changed his game in one year. He's fast, accurate. It's like having Derek Jeter at quarterback. He can throw it at awkward angles and with some gas on it. He can throw the screen, the seam route, throw with touch. Every time a tight end releases, MSU has to mug him.

It's all very challenging because Miller is so athletic. He's just so elusive. If you have him bottled up in the run game or pass game, he can make you miss in a different way than anybody else in the Big Ten. He can jump-cut in a small area, and all of a sudden, you are just grabbing air.

The aspect of Carlos Hyde coming on and being a very good power runner is also backed by the complexity of the offense. They tend to spread you out, so that gives them the screen game. And they also can throw the ball down the field as we saw vs. Michigan. As far as trying to stop them, I think you have to spy someone on Miller. Once he pops through the line, you need to be able to contain him. If he gets going in the run game, it's a little like Johnny Manziel where he can make so many things happen with his arm and legs. It becomes really difficult to defend.

They are just a well-balanced offense. It's hard to say you are just going to stop Miller or you just are going to stop Hyde. They have good receivers. Devin Smith is really good. You have to play good, fundamental defense. Northwestern was able to cause a few turnovers, which really allowed Northwestern to be in the game.

The other thing about the Urban Meyer offense, he frequently in third-and-medium or first-and-10 will do the quick quarterback rollout and throw the ball into the flat for a five- or six-yard gain. That's always been kind of a staple play. But when you play a tight, man-to-man coverage like MSU, that's not available. That's something to look for.

So, Michigan State needs to take the A- and B-gap running game out, stop the screen and don't let a tight end get off the line of scrimmage. And the Spartans need to make Miller beat them throwing the ball outside the hash marks.

Against their defense, we got after them with an extra man in the run game with zone schemes. If they want to play coverage, we have an extra runner and if we get things blocked up, we can move. Bradley Roby was good, but we thought we could have some success vs. that secondary throwing the ball.

A lot of teams have put up points on them. Michigan has a below-average offense and was able to put 41 on them. It's a good matchup. Michigan State has improved on offense, but Ohio State on defense probably has a lot of self-doubt as it pertains to being able to stop anybody.

Special teams will be critical for Ohio State. You can't emphasize enough the need to not get punts blocked or allow long returns and touchdowns. Ohio State and Urban Meyer are very aggressive at coming after punts. If you just go through your standard operating procedure, there's a chance you'll get a punt blocked against them. MSU punts well but its protection will have to be very good. They have to speed up their operation time. If OSU doesn't block that punt at Northwestern, I think Northwestern wins that game. When we punted vs. OSU, we had an extensive plan to use different formations and tempos and speed up the punt and move the kick point around. We also had some fakes in. You have to be able to slow them down. When it's 4th and over 10 and you are backed up, they will hit you up. They are good at blocking punts. They practice the heck out of it.





On Monday, December 2, 2013, Ohio State and Michigan State players spoke with reporters from around the country about the upcoming Big Ten Football Championship game in Indianapolis. Listen to what group of players each had to say about reaching the title game and their opponents:







B1G Breakdown: Position by position
December 3, 2013 Source: BTN - Here's a look at the matchups for each team. Who has the edge?

Let's go position by position.



***OFFENSE***



BACKFIELD

Michigan State: In September, this area was a mess. Now, it has become an unabashed strong suit. Connor Cook has emerged as the unquestioned leader at quarterback, but he's still a work in progress. His passing can be spotty but he has 17 TD strikes with just four picks. Jeremy Langford is a physical runner who has proven to be the answer at running back, eclipsing the 100-yard rushing barrier in each of the last seven games and has 1,210 rushing yards on the season. No one saw this coming.

Ohio State: Braxton Miller may be nation's most deadly weapon. No one is better in the open field as a runner (891 yards rushing), as he's the quintessential big play waiting to happen. He also has augmented his passing, ranking No. 2 in the league in passing efficiency. Carlos Hyde is a physical runner who can carry the Buckeye to victory. He's arguably the top back in the Big Ten, running for more than 100 yards in each of the last seven games. Hyde has 1,290 yards rushing on the season in about seven games of work.

Advantage: Ohio State

RECEIVERS

Michigan State: This unit was plagued by myriad drops in 2012 and entered the season under intense scrutiny. Well, the receiving corps has stepped up big time. Bennie Fowler (31 catches for 496 yards and six TDs) has been the leader, but Tony Lippett also has been effective with a team-high 35 grabs for 454 yards. Macgarrett Kings, Jr., has been a revelation as a sophomore. MSU doesn't get much receiving-wise from its tight ends.

Ohio State: This group incurred the wrath of Urban Meyer upon his arrival in 2012. Now, it's a strong unit. There is no Terry Glenn, Ted Ginn, David Boston or Joey Galloway, but Devin Smith and Corey Brown are physical targets who run good routes and can make plays. Smith leads the team with 644 yards receiving (41 catches) with eight TDs. Brown has a club-best 49 receptions for 596 yards and nine scores. Evan Spencer is another bigger wideout who can pose some matchup issues. The tight end tandem of Jeff Heuerman and Nick Vannett is sneaky good; they can block and catch. Each is 6-6, 250.

Advantage: Ohio State

LINE

Michigan State: The Spartan front was maligned by injury in 2012, which prevented the unit from developing chemistry and cohesion. But it all has come together for the group this fall, as it has been the strong point of the offense. Guard Blake Treadwell has been the best of the bunch. Tackle Jack Conklin is a former walk-on who is excelling as a redshirt freshman. Center Jack Allen plays with the physicality of a defensive lineman. He's a stud.

Ohio State: Urban Meyer has said time and again how well he thinks this unit has played this year. No doubt, the group has come a long way since the first spring practice in 2012. Left tackle Jack Mewhort is the lynchpin who is among the best in the program's recent history. Right tackle Taylor Decker could be the next great one. Corey Linsley is a force in the pivot. Guard Andrew Norwell is a brawler on the interior.

Advantage: Even



***DEFENSE***



LINE Michigan State: End Shilique Calhoun has made everyone forget about William Gholston. Calhoun plays hard every down and is equally adept at playing the run as he is at rushing the passer. Fellow end Marcus Rush is a bit light in the pants, but he can get after it. Micajah Reynolds is a massive presence (6-5, 320) on the nose. Tyler Hoover (6-7, 310) is difficult to root out of the interior, too. Depth is good, allowing for a rotation of fresh bodies. Ohio State: The Buckeyes had to replace all four starters from 2012. No big whoop. This is an uber-talented group. Noah Spence has emerged as a pass-rushing force with a quick first step. Tackle Michael Bennett is an underrated presence who ran rush the passer. Precocious end Joey Bosa has been one of the most impactful true freshmen defensive linemen in the nation. Guy is gonna be an All-American.

Advantage: Michigan State

LINEBACKERS Michigan State: This is the top group of linebackers in the Big Ten. Max Bullough is the man in the middle, a heady, tough player who is like a coach on the field. Denicos Allen is a safety masquerading as a linebacker. He's always around the ball and in the backfield, excelling in space. Taiwan Jones is a massive presence (6-3, 232) who can take on the run in the boundary. Jairus Jones and Ed Davis bolster this deep corps. So much talent. Ohio State: This was an area of concern in 2012, but it has improved this season. Ryan Shazier is without peer in the Big Ten. He's a deadly blend of athletic ability and power, able to take on blocks and make plays from sideline to sideline. He's tops in the league in tackles and TFLs. He's also the Big Ten's best defensive player. Curtis Grant is a former five-star recruit whose is starting to pay dividends. Joshua Perry and Carmen Williams are promising sophomores who can run and hit.

Advantage: Michigan State

DEFENSIVE BACKS

Michigan State: The Spartans may have the best collection of defensive backs in the nation. Darqueze Dennard may be the top cornerback in America, a true shut-down force who takes away one-third of the field. Trae Waynes is a big corner (6-1, 175) on the other side who is underrated. The safety tandem of Isaiah Lewis and Kurtis Drummond is without peer. Two physical hitters who can play in space.

Ohio State: This is the most suspect area on the Buckeye defense. Losing heavy-hitting safety Christian Bryant to a season-ending injury hurt. He was a senior captain who broke an ankle in the Wisconsin game. Corner Bradley Roby is a future first-round draft choice who is equally adept at covering as he is playing the run. Doran Grant is a physical corner who can be beat. Safeties Corey Brown and C.J. Barnett are solid but can get lost in coverage.

Advantage: Michigan State

SPECIALISTS

Michigan State: The Spartans have one of the nation's top punters in Mike Sadler. He should have been a Ray Guy Award finalists but wasn't. Shameful. Sadler averages 42.4 yards per boot and is adept at placement with 29 inside the 20-yard line. Michael Geiger arrived as the nation's most touted kicking prospect and has delivered, nailing 12-of-13 field-goal attempts. Kid has a big leg, drilling all six of his attempts between 40-49 yards with a long of 49. Macgarrett Kings, Jr., and Andre Sims are good punt returners.

Ohio State: The Buckeyes usually score touchdowns. But Drew Basil is a capable kicker, hitting 8-of-9 field-goal attempts but his long is from just 45 yards. Aussie Cameron Johnston is a good punter, averaging 43.6 yards per boot with 23 kicks inside the 20. Lots of athletes on the coverage teams.

Advantage: Michigan State





No. 2 Ohio State B1G Championship Game Notes
DEcember 2, 2013 Source: OSU Official Site - Kickoff set for 8:17 p.m. ET on FOX...



First and 10

• Ohio State enters the game with the nation's longest win streak at 24 games -- a program record.

• The Buckeyes are making their first Big Ten championship game appearance.

• Ohio State leads the Big Ten and ranks third in the NCAA in scoring with 48.2 ppg.

• Ohio State also leads the Big Ten and ranks second in the NCAA in rushing with 321.3 ypg.

• Ohio State ranks fifth nationally in rushing defense (100.0 ypg) and is one of two FBS schools to not allow a 100-yard rusher in 2013 (Syracuse).

• Junior QB Braxton Miller needs 166 total yards to reach 8,000 yards of total offense (7,834) and only 43 passing yards to top 5,000 for his career.

• Senior RB Carlos Hyde is the first RB under Urban Meyer to rush for 1,000 yards in a season. He leads the Big Ten in rushing in B1G play with 156.1 ypg. His 226 yards at Michigan were the most by an Ohio State RB in the OSU-UM rivalry.

• Hyde and Miller have combined for 1,070 rushing yards with 13 TDs in the past three games.

• Junior LB Ryan Shazier leads the Big Ten in TFL with 21.0. He has 50 tackles in his last three games (16 at UI, 20 vs. IU and 14 at UM).

• Head coach Urban Meyer is 2-1 in conference championship games and 9-2 in games played in December and January.

SIX COMMON OPPONENTS
Ohio State and Michigan State have played six common opponents this season: Michigan, Iowa, Northwestern, Indiana, Illinois and Purdue. Ohio State's total margin of victory in those games was 130 points; Michigan State's was 126.

OHIO STATE INDOORS
The Buckeyes have an official, all-time record of 14-5 in games played indoors. Ohio State has not played indoors since the 2011 Sugar Bowl game vs. Arkansas at the Superdome, a win for Ohio State that was later vacated. The most recent indoor game prior to that was the 2009 Fiesta Bowl against Texas at the University of Phoenix Stadium.

SERIES HISTORY
Ohio State and Michigan State are meeting for the 42nd time overall and for the first time on a neutral field. Ohio State leads the all-time series, 28-13, and has won eight of the last nine overall, including last year's 17-16 win in East Lansing on Sept. 29.

BRAXTON NOW SECOND IN TOUCHDOWNS
Braxton Miller's four-touchdown game against Indiana moved the junior signal caller past 2006 Heisman Trophy winner Troy Smith and into sole possession of second-place on Ohio State's career list. With five more at Michigan Saturday he now has 77 touchdowns responsible for. Miller has 49 touchdown passes and 28 rushing touchdowns. Art Schlichter (1978-81) holds the record with 85.

Ohio State at Michigan State Game Notes






Press Conference Transcript
December 2, 2013 Source: OSU Official Site - Coach Meyer and Coach Herman met with the media during the weekly press conference...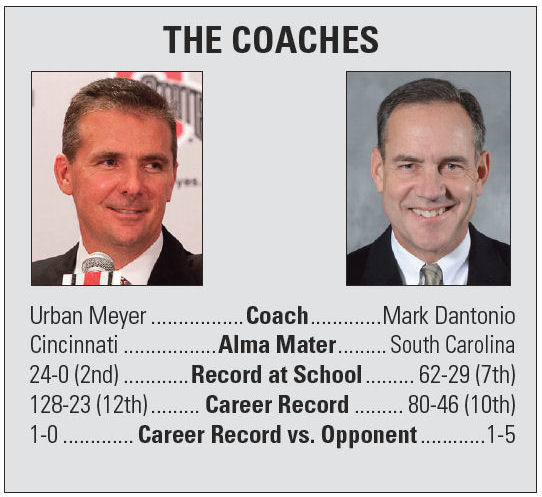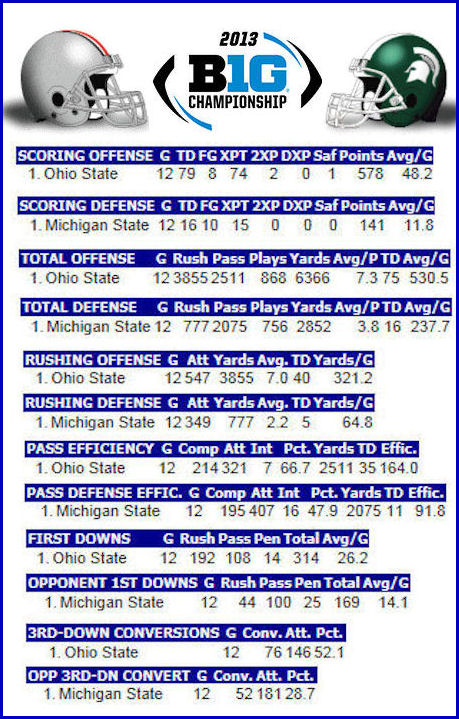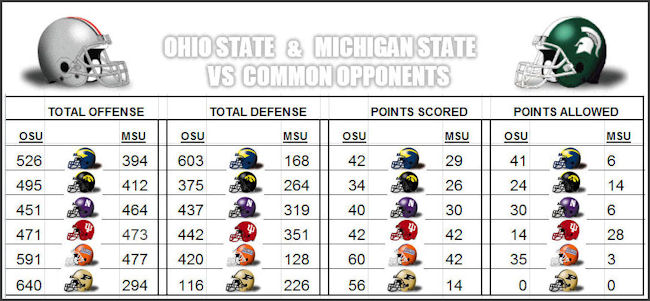 Indianapolis Weather Forecast




2013 Big Ten Championship Prediction: Michigan State vs. Ohio State
December 2, 2013 Source: WhatIfSports.com - Urban Meyer would earn $100,000 for beating Michigan State in the Big Ten Championship game in Indianapolis.

So much was made about the Buckeyes' defense - or lack thereof – after Michigan lit it up for 41 points last Saturday. However, for those casual football fans, Ohio State's defense has been a bug-a-boo for most of the season. They allowed 20 or more points in seven out of their 12 regular season games. Illinois and its 62nd-ranked scoring offense dropped 35 points on the Bucks a few weeks ago.

Ohio State's hyper-offense has masked a lot of the deficiencies with Braxton Miller and Carlos Hyde pacing the third-ranked scoring offense in the nation at over 48 points per pop.

The Spartans have scored more than 48 points in a game only once this season (vs. Youngstown State). However, their fourth-ranked scoring defense has allowed 20-or-more points only twice this season. Oh, and that pesky Illinois offense that dropped 35 on the Bucks? Sparty held them to three points.

We simulated Ohio State and Michigan State 101 times and the Buckeyes come out on top 55 percent of the time by an average score of 21-20.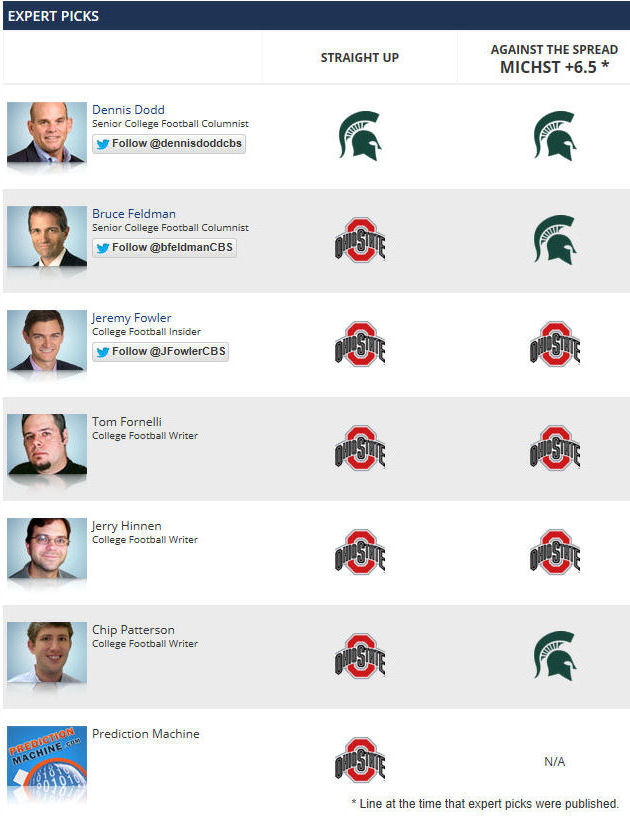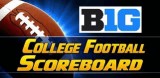 Michigan State's top-tier defense ready to put on a show
December 3, 2013 Source: Detroit News - The Spartans just might be "as good a defense as there is in America," as Ohio State coach Urban Meyer suggested Sunday. They're already "by far the best defense I've ever been a part of," according to Narduzzi, who's in his seventh season in East Lansing.

"I haven't been here as long as some of you have been," he added after Saturday's regular-season finale, "but it has to rival as one of the best defenses ever at Michigan State, forget the last seven years."...






OSU Insider: Shot at national title is within reach
December 2, 2013 Source: Columbus Dispatch

25 words or fewer
Ohio State started the season No.?2, is back up to No.?2 and needs a 25th straight victory for a shot to be No.?1. Probably.

In the BCS/polls
With Auburn's upset of top-ranked Alabama, Florida State moved to No.?1 this week in the Bowl Championship Series standings and Ohio State moved up a spot to No.?2. The top two after this weekend's games move on to the BCS title game on Jan.?6 in Pasadena, Calif. With one-loss Auburn leaping to No.?3 in the two major polls behind Ohio State, there is a slight possibility the Tigers could jump the Buckeyes next Sunday night. But history is against it.

What's hot?
The running game. Ohio State is up to No.?2 nationally in rushing, averaging 321.3 yards a game, behind triple-option mainstay Army (323.6). Carlos Hyde has rushed for 111 yards or more in seven straight games, including 226 on Saturday, the most by a Buckeye against Michigan. He debuted in the national rankings finally yesterday at No.?6 (143.3-yard average). Quarterback Braxton Miller (153 rushing yards at Michigan) had his third straight game of 144 yards or more.

What's not hot?
The passing offense. But again, Miller and the Buckeyes made the most out of limited attempts, with Miller throwing for two touchdown passes, including a 53-yard rainbow to Devin Smith. Passing likely will need to be more a part of the game plan this week against a Michigan State defense that is No.?1 nationally against the run (64.8).

What went right?
The Buckeyes' pass defense against that two-point attempt, the biggest play of the season. Tyvis Powell and the other defenders knew what was coming, and Powell stepped in to intercept Devin Gardner's pass. It was the difference between victory and defeat.

Back to drawing board
The rest of the pass defense. How could a defense so focused on that climactic play be so snookered by Michigan's often misdirection passing attack the previous 59 minutes and 28 seconds? Michigan State no doubt noted how wide screens, throwback screens and backside passes often found not enough defenders to thwart them. This deep into the season, Urban Meyer thought the defense had those things figured out.

Dinged up
Middle linebacker Curtis Grant, coming off a high-ankle sprain, did play early, but was replaced by Camren Williams as the game progressed.

Catch that?
Freshman Dontre Wilson and right guard Marcus Hall, along with a Michigan player, were ejected early in the second quarter after a melee broke out following a kickoff return by Wilson. There also were other moments of chippiness. But in the fourth quarter, after knocking Gardner down on a pass attempt, OSU freshman defensive end Joey Bosa reached down and helped him up in a clear show of sportsmanship.

Next
Michigan State (11-1, 8-0), the Big Ten Legends Division winner in the league championship game on Saturday night in Indianapolis. The Spartans, in the seventh year under coach Mark Dantonio, have quietly turned in an awesome season blemished only by an early loss to Notre Dame, and anchored by what might be the best defense in the nation. The offense, led by sophomore first-year starting quarterback Connor Cook, has steadily improved.

This week's challenge
It will be in keeping all thoughts on the Spartans instead of daydreaming about a trip to the national title game. This matchup pits the two teams' strengths (OSU offense vs. MSU defense) and their more pedestrian parts (MSU offense vs. OSU defense). In a season in which Ohio State's schedule has been decried for its weakness, this will be a top-10 matchup, and definitely the best opponent the Buckeyes have faced this year.



















An Ohio State Thanksgiving HERE