Brutus has helped us create a page where you can listen to hundreds of your favorite Christmas carols and holiday music, as well as humorous sounds of the season. Listen and enjoy!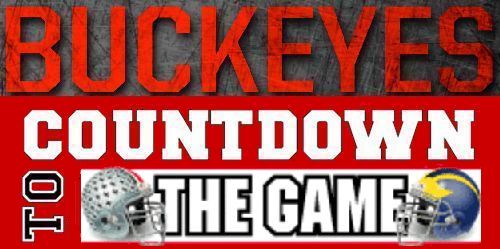 Date
Opponent
Thursday
Aug 31, 8pm
@ Indiana
Memorial Stadium, Bloomington, IN
Saturday
Sept 9, 7:30pm
Oklahoma
Ohio Stadium, Columbus, OH
Saturday
Sept 16, 4:30pm
Army
Ohio Stadium, Columbus, OH
Saturday
Sept 23, Noon
UNLV
Ohio Stadium, Columbus, OH
Saturday
Sept 30, 7:30
@ Rutgers
High Point Solutions Stadium, Piscataway, NJ
Saturday
Oct 7, 4:00pm
Maryland
Ohio Stadium, Columbus, OH
Saturday
Oct 14, 7:30
@ Nebraska
Memorial Stadium, Lincoln, NE
Saturday
Oct 21
---
Open Date
Saturday
Oct 28, 3:30pm
Penn State
Ohio Stadium, Columbus, OH
Saturday
Nov 4
@ Iowa
Kinnick Stadium, Iowa City, IA
Saturday
Nov 11 Noon
Michigan State
Ohio Stadium, Columbus, OH
Saturday
Nov 18 3:30pm
Illinois
Ohio Stadium, Columbus, OH
Saturday
Nov 25, 12:00pm
@ TSUN
Michigan Stadium, Ann Arbor, MI
Sat
Dec 2, 8:00pm
Big Ten Championship
Lucas Oil Stadium, Indianapolis, IN
Fri
Dec 29, 8:30pm
USC
Cotton Bowl, Arlington, TX





| | |
| --- | --- |
| | December 4, 2017 |

OHIO STATE Coaches & Staff Twitter Accounts
Coach
Twitter
Urban Meyer, Head Coach
@OSUCoachMeyer
Kevin Wilson, Offensive Coordinator/TE Coach
@OSUCoachKDub
Greg Schiano, Associate HC/ Co-Defensive Coordinator
@OSUCoachSchiano
Ryan Day, Co-Offensive Coordinator/QB Coach
@ryandaytime
Tony Alford, Assistant Head Coach /RBs Coach
@CoachTonyAlford
Zach Smith, Wide Receivers Coach
@CoachZachSmith
Greg Studrawa, Offensive Line Coach
@CoachStudOL
Larry Johnson, Assistant Head Coach / Defensive Line
@R2X_Rushmen1
Bill Davis, Linebackers Coach
@CoachBillDavis
Kerry Coombs, Cornerbacks / Special Teams
@OsuCoachCoombs
Mark Pantoni, Director of Player Personnel

@markpantoni
Mickey Marotti, Assistant AD for Football Sports Performance

@CoacMickMarotti
Matt Thurin - Quality Control Coach - Defense

@CoachThurin
Tim Hinton, Exec Director FB Relations/Special Asst to HC
@OSUCoachHinton


27-21

Ohio State beats Wisconsin in Big Ten Championship Game Ann Indianapolis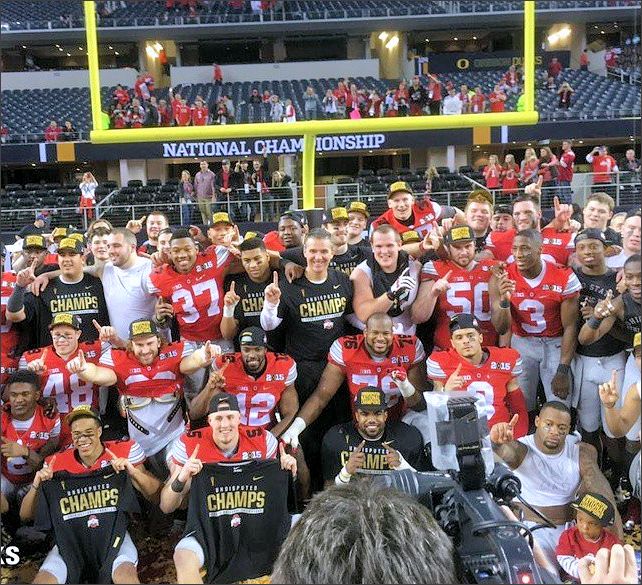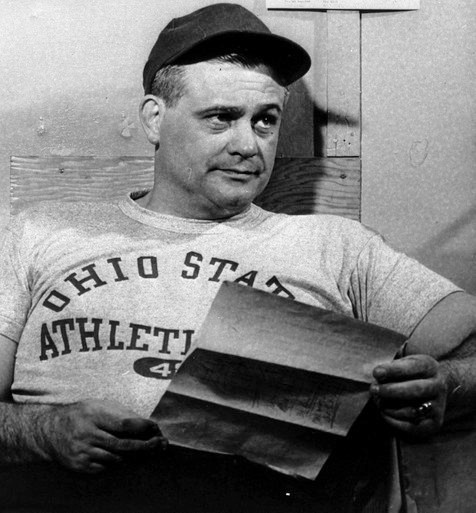 Woody Hayes career ended 35 yrs ago today (December 29, 1978).

A look back at the 1978 Gator Bowl and the legacy of Ohio State's legendary head coach.
Woody's generous side often overlooked
December 22, 2013 Source: Columbus Dispatch - "Unlike when it happened 35 years ago, this time everyone sees The Punch coming. Yet, still there is no way to avoid getting hit by it, as a barrage of TV replays, tired jokes and national stories will focus on the left hook that Woody Hayes threw during the 1978 Gator Bowl against Clemson..."














| | |
| --- | --- |
| | The archives contain all previously posted football news. If you missed or are looking for something, find it in the archives. |
2015
Football News